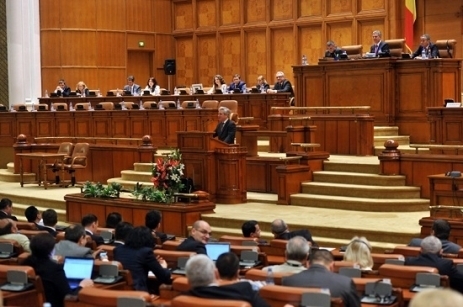 The fourth Ponta Cabinet has received the vote of confidence from Romania's Parliament, after the Specialized Committees heard the new ministers nominated by Prime Minister Victor Ponta to replace the members leaving the Government. The Parliament passed the new Executive supported by the PSD-UNPR-PC alliance and PLR by 377 votes to 134, with 12 votes annulled.
Victor Ponta announced that the investiture ceremony during which the members of the Government will take oath before President Traian Basescu will be held at the Cotroceni Palace on the evening of December 16, 2014.
In the new Cabinet will also remain members of the USL Government – some of them keep their ministries (Liviu Dragnea, Liviu Voinea, Rober Cazanciuc, Titus Corlatean, Mircea Dusa, Remus Pricopie, Eugen Teodorovici, Mihnea Costoiu), others will be assigned new ones (Rovana Plumb, Nicolae Banicioiu, Constantin Nita, Dan Sova, Doina Pana). Hence, the Government will have the following structure:
Apart from the eight new ministers - Andrei Gerea, Mihai Tudose, Sorin Grindeanu, Sorin Cimpeanu, Ionut Vulpescu, Gratiela Gavrilescu, Angel Tilvar and Liviu Marian Pop, in the new cabinet 14 ministers keep their portfolios – Liviu Dragnea, Gabriel Oprea, Daniel Constantin, Bogdan Aurescu, Mircea Dusa, Robert-Marius Cazanciuc, Ioan Rus, Nicolae Banicioiu, Rovana Plumb, Eugen Teodorovici, Gabriela Szabo, Mihnea Costoiu, Eugen Nicolicea.
Hence, the Government will have the following structure:
Liviu Dragnea – Minister of Regional Development;
Gabriel Oprea – Deputy Prime Minister and Minister of Internal Affairs;
Daniel Constantin – Minister of Agriculture;
Andrei Gerea – Minister of Energy and SMEs;
Ionut Vulpescu – Minister of Culture;
Bogdan Aurescu – Minister of Foreign Affairs;
Mircea Dusa – Minister of Defence;
Robert Cazanciuc – Minister of Justice;
Gratiela Gavrilescu – Minister of Environment and Climate Change;
Mihai Tudose – Minister of Economy;
Darius Valcov – Minister of Public Finance;
Nicolae Banicioiu – Minister of Health;
Sorin Cimpeanu – Minister of Education;
Gabriela Szabo – Minister of Youth and Sports;
Rovana Plumb – Minister of Labour and Family;
Eugen Teodorovici – Minister of European Funds;
Sorin Grindeanu – Minister for Information Society;
Ioan Rus – Minister of Transport;
Besides these 18 ministers, there are three more ministers delegates, subordinated to some of the main ministries:
Eugen Nicolicea – Minister Delegate for the Relations with the Parliament (the Ministry of Justice);
Liviu Pop – Minister Delegate for Social Dialogue (the Ministry of Justice);
Angel Tilvar – Minister Delegate for Romanians Abroad (the Ministry of Foreign Affairs);