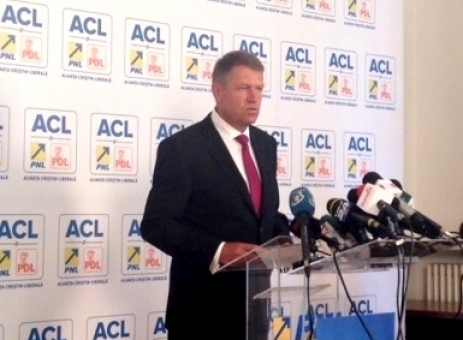 The leadership of PDL and PNL designated Klaus Iohannis as the candidate of the recently established Christian-Liberal Alliance (ACL) in this year's presidential elections. As Iohannis represents the National-Liberals, the prime minister position, in case of his election, will be taken by PDL's vice-president Catalin Predoiu.
"I want less drama, less noise and more reliability", Iohannis said following the official announcement of his nominations. The current mayor of Sibiu also stated that in the event of him becoming Romania's president he will maintain the direction already adopted as regards the foreign policy and the judiciary whose independence is essential for the country's evolution as a "Western" state.
"The partnership with the US, the membership of NATO and the EU, Romania's orientation towards West, the strategic ally status are all not negotiable", declared Iohannis further adding that "the second area of interest concerns the independence of the judiciary and its proper functioning. It is a gain of recent years that needs to be defended and consolidated".
Catalin Predoiu was the second option for running for president from behalf of the ACL as the related surveys conducted by PNL placed him behind Klaus Iohannis, according to Democrat-Liberal sources quoted by Mediafax. Hence, his nomination as possible prime minister provided ACL wins the elections against PSD's candidate, Victor Ponta.
"We have designated Catalin Predoiu as prime minister delegated by our alliance, our party and I am positive that we will be able to build together the strongest right-center wing party in Romania, not necessarily as a counterbalance to PSD – and this is important – but to be eventually the vehicle capable to promote our values",said Vasile Blaga, PDL's leader.
According to the same sources quoted by the newswire, the said survey revealed that PSD currently accounts for 37-38 percent of the votes, while ACL has 33-34 percent.