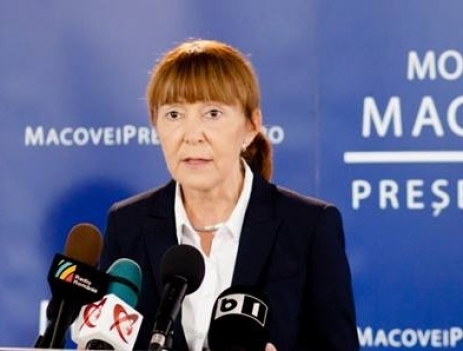 Monica Macovei has made official her resignation from PDL in the light of the coming presidential elections, as she is one of the announced candidates. Currently MEP, Macovei said during a press conference that her decision was well-weighed, explaining that the party's direction these days does not correspond with her principles.
"I today resign from PDL and it isn't a hasty decision, I have been thinking about it a lot. I believe that what is happening inside PDL at present is wrong and consequently, I decided to quit", Macovei said, adding that she does not intend to enroll in any other party.
"I will run independently for presidency because I am convinced that Romanian people deserve a president of their own. However, presidents should resign from any part they may belong when they become president", she continued.
The former Minister of Justice blamed the latest developments as regards PDL and the union with the other major right-wing party, PNL, saying there are all sort of arrangements made within the party leading to even supporting a candidate from outside the PDL, who has not presented a vision for Romania, who has never fought for protecting the rule of law or combating corruption. Macovei further explained that she supports the unification of right-wing parties, yet not by any means, since the common candidate running for President, Klaus Iohannis, is not representative of the declared purpose.
"We all know that Mr Iohannis has made arrangements with both Ponta and Voiculescu in recent years. We all know that he is called "the Grivco prime minister", one nominated by PSD and Voiculescu to be Romania's Prime Minister", she commented.
In the end, Macovei has stressed out the importance of Romania's continuity with respect to the pro-NATO and pro-EU policies, stating that an independent president, like her, would be a guarantor for our country to remain a member of these organizations and not adhering to China's or Russia's political models.