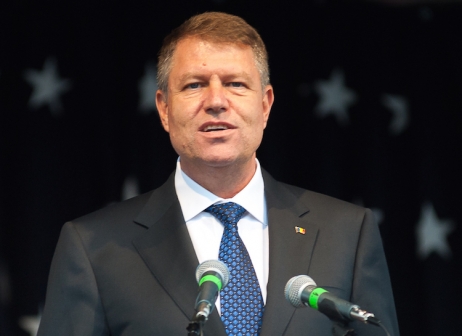 Source: www.presidency.ro
An opinion poll released this August by the Info-politics Studies and Research Center shows that the political personality Romanians trust the most, with 59 percent favorability rating is President Klaus Iohannis.
This result shows a decrease in confidence with a 19 percent slip compared to the 78 percent approval rating he enjoyed in December. According to the poll, next after President Klaus Iohannis in the Romanians' confidence ranking is Sorin Oprescu with 40 percent confidence rate.
The CSCI data also reveals that Premier Victor Ponta has a 35 percent confidence rating this August, as to 36 percent in December 2014, while Calin Popescu Tariceanu scores 33 percent as to 36 percent in December 2014. If parliamentary elections were held next Sunday, the New Liberal National Party would get the vote of 41 percent of the Romanians, while 37 percent of the voters would go for the Social Democratic Party. The Hungarian Democratic Union of Romania and the M10 Party headed by Monica Macovei would each get 5 percent of the votes, while the Alliance of Liberals and Democrats, the People's Movement Party and the United Romania Party would each garner 3 percent of the votes.
The National Union for Romania's Progress would get 2 percent of the ballots, the CSCI poll also found and reported by Agerpress. The same poll shows that 44 percent of Romanians believe the country is currently headed for the good direction, while 49 percent think the opposite. Asked about their overall life satisfaction level, 57 percent of the respondents said they are satisfied, while 43 percent said they are unhappy with it.