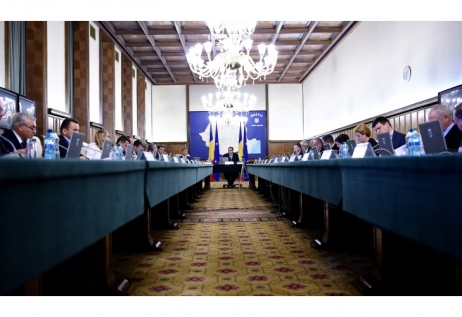 Source: www.gov.ro
Victor Ponta, the Romanian Prime Minister has stepped down from his official role on November 4
th
2015 following a 25 000 people strong protest the night before, in Romania's capital city.
The protests were sparked by October 30
th
's fire at the Colectiv club, which caused the death of 32 people and left almost 200 injured. Bucharest, Brasov, Sibiu and other cities around Romania have seen an impressive number of young people mobilize, mainly through social media platforms such as Facebook, to voice their anger with regard to the corruption that lead to Friday night's tragedy.
" It is my obligation to ascertain the legitimate anger which exists throughout society. People want something more and it would be a mistake for me to ignore this. I don't want nor do I think it is fair to leave this responsibility with those who were on the field or to the mayors, state secretaries and ministers. I am doing this because even though I have, as a politician, withstood every battle with my adversaries, I will not fight the people" Ponta said. " I hope that my resignation and that of the Government can satisfy the expectations of those who protested" he added.Romania is therefore now waiting to see who will form the new Government, for, once the Prime Minister has resigned, the entire Romanian Government has been removed. The Romanian president now has to summon a meeting of the political parties and consult with them, while leaders of Parliament must come up with a new proposal for Prime Minister which needs to be approved by the head of state. The next step is to have the new Premier name the new Ministers and gain the confidence vote of the Parliament.