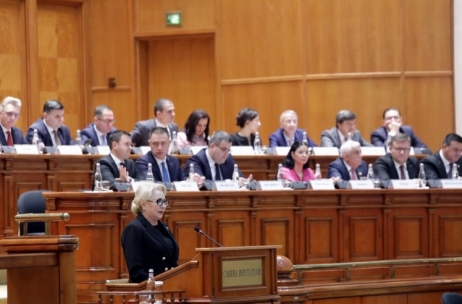 Source: www.gov.ro
The plenary of the Romanian Parliament approved on Thursday October 10 the no-confidence motion submitted by the opposition with 238 votes "for".
399 parliamentarians were present and the total votes for adoption of the motion - 238, votes against - 4, abstentions - 0. The motion cleared the majority of the votes required by the Constitution for adoption, so that Parliament withdraws the confidence granted to the Government.
At least 233 votes were required to pass the censorship motion. Last week, at the filing, the motion was supported by 237 signatures.
President Johannis must convene parliamentary parties for consultations and appoint a candidate for the position of prime minister. Within 10 days of being nominated, the candidate nominated for the position of prime minister must come to Parliament with the government team, for the vote of confidence.
The Dăncilă Government remains to fulfill only the normative acts necessary for the administration of public affairs, without promoting new policies, until the members of the new Government take the oath.