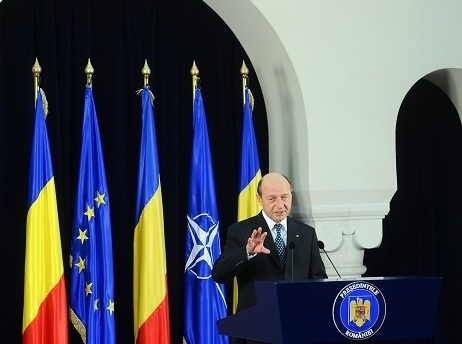 Traian Basescu yesterday announced that he approved the Memorandum which supports the Letter of Intent to the International Monetary Fund. He said during the investiture ceremony of the new Cabinet that he hopes that the arrangement with the Fund, by the measures it involves, will improve Romania's competitiveness which is still the major issue, especially within state-owned companies.
The announce was later confirmed by an official informing of the Presidency: "Romania's President, Traian Basescu, signed Wednesday, March 5 this year, the Memorandum on: a. The approval of the results of discussions held within January 21 and February 4, 2014 during the Joint Assessement Mission of the International Monetary Fund, the European Commission, and the World Bank, related to the ongoing program of precautionary financial aid; b. The approval of the signing of the Letter of Intent by Prime Minister, Victor-Viorel Ponta, along with the Governor of the Romania's Central Bank".
Initially, in early-December 2013, Basescu refused to sign the Memorandum due to the fact that it stipulated the introduction of the 7 eurocents tax on fuel starting 2014. He said at that point that a measure like that is "antieconomic, against Romania's interests and economic recovery" and that Romania does not depend on the financial arrangement with the Fund, stating that it should be renegotiated. Subsequently, PM Ponta argued that the new tax must be introduced, however, agreed on postponing it until April 2014.
Following the recent IMF Mission, Basescu asserted that the Memorandum will not be approved in case the provision concerning the excise duty on fuel stands. Thus, Victor Ponta said that it will not be mentioned by the corresponding documents, but it will be eventually introduced as from April, thereby reaching a compromise in order for the stand-by arrangement with the Fund, the EU Commission and the World Bank becomes effective.