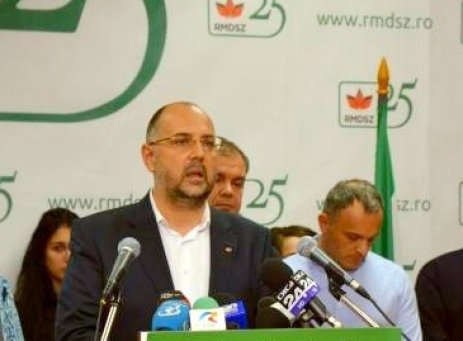 Source: www.udmr.ro
UDMR has decided to leave the ruling coalition, said its leader, Kelemen Hunor, as the Permanent Council convened this week recommended to the Union's ministers to withdraw from the Government. However the final conclusion will be made by the Council of Union Representatives on December 13.
Hunor explained that the decision came as a result of the message received from their voters following Romania's presidential election.
"We have reached the conclusion that, at this point, the voters' willing is to focus more on building the community, without making a priority from the instruments offered by our involvement in the Government", said Kelemen Hunor.
He further emphasized that the Union does not intend to destabilize the Government or to contribute to its fall, adding that the current Government is stable enough politically even without UDMR. Hunor also stated that UDMR will continue dialogue with representative of the ruling coalition in the Parliament, as its main priority continues to be asserting the interests of the Hugarian community.
"So, we will support any initiative in the Parliament, any bill contributing to the welfare of both Romanian and Hungarian citizens, namely to the consolidation of economic stability. As far as we are concerned, our priority remains to support the interests of the Hungarian community in Romania",he concluded.