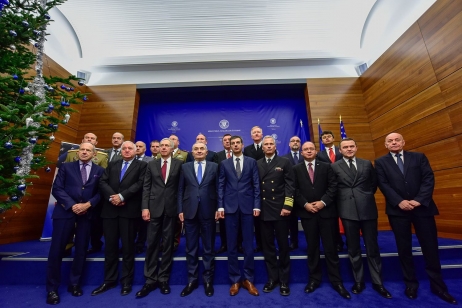 Source: romania.usembassy.gov
In the context of the Strategic Partnership within NATO, the United States and Romania announced that major military components of the Aegis Ashore Missile Defense System (AAMDS) in Romania, a key element in Phase II of the European Phased Adaptive Approach (EPAA), are completed and have been handed over to the operational commander for future integration into the NATO Ballistic Missile Defense architecture.
Delivery of this capability signals a significant increase in ballistic missile defense capability and defensive coverage for southern and central NATO Europe against short- and medium-range ballistic missile threats emanating from outside the Euro-Atlantic Area.
This is the outcome of extensive military construction, equipment installation, and testing activities at Deveselu. Romania and the United States cooperate across a broad spectrum of security efforts, including through Operation Atlantic Resolve, and in other exercises and missions across the globe. Within this context, Romania periodically hosts U.S. European Command and its service components to jointly conduct training exercises with military forces from the Central European and Black Sea regions.