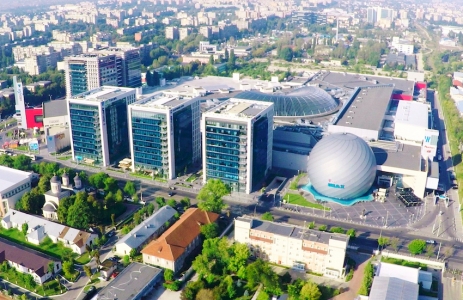 Office buildings AFI Park 4 and 5 have reached fifty percent (16,000 sqm) pre-leases at the beginning of 2016. The 4th and 5th phase of the office project AFI Park developed near the mall in Cotroceni will be delivered at the beginning of February 2016. Cameron, one of the tenants in AFI Park 1, will expand and relocate its offices into AFI Park . The other three companies which have signed agreements for spaces in the two buildings come from the IT&C industry.
AFI Park consists of 5 Class A office buildings totaling 70,000 sqm of GLA, which are linked to the AFI Palace Cotroceni Shopping Mall (82,000 sqm GLA).
AFI Europe, the owner of the complex is a subsidiary of AFI Properties and one of the leading real estate development, management and investment companies, which is operating in Central and Eastern Europe since 1997. AFI Europe operates in Romania since 2005. The company has developed and is managing "AFI Palace Cotroceni", AFI Palace Ploiesti, and AFI Park, a Class A business Park.
In July 2015 AFI Europe has signed an agreement to purchase a 40,000 sqm plot in the City Centre of Brasov for the development of a 45,000 sqm GLA shopping mall and 11,000 sqm GLA office project.
In addition, AFI Europe Romania has two projects to be developed in the near future on the company's 80,000 sqm land plot in Arad where a Retail park is to be developed and the mix use project to be developed on the 148,000 sqm land plot in Bucurestii Noi district 1 of Bucharest.
In the office segment, AFI will develop AFI Tech Park, a 50,000 sqm of GLA Class A Business Park to be located in close proximity to the J.W. Marriott hotel and the Romanian Parliament. The business park will comprise of 2 low rise office buildings and one office tower, with ample green areas, a high tech/campus style environment in an urban complex with a central plaza & gardens.