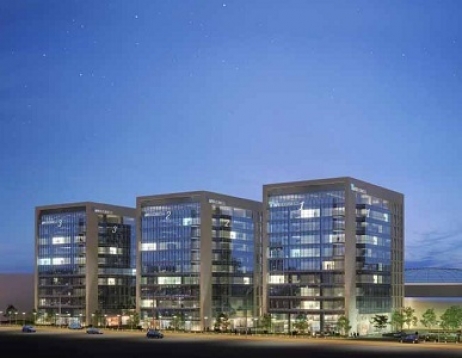 Source: AFI Europe
AFI Europe has concluded a financing agreement of 32 million euro with BCR for AFI Park 2 and 3 office buildings. Part of the loan, 17 million euro, is destined to investment in AFI Park 2, while the remaining amount of 15 million euro will be used for the development of AFI Park 3, reads a press release of the company.
"Getting this loan will allow AFI Europe to recover the entire capital invested in AFI Park 2, whose development was supported through own funds and complete AFI Park 3, whose inauguration is scheduled to take place by the end of this year", commented David Hay, CEO AFI Europe Romania.
AFI Park comprises five A-class office buildings, with a total gross leasable area (GLA) of over 65,000 sqm, located near AFI Palace Cotroceni, Romania's largest shopping mall. AFI Park 1 and 2 projects were completed, whereas the third office is in this year's pipeline. All the three buildings are fully leased, as the company has recently signed a pre-lease for the remaining 6,000 sqm in AFI Park 3 with TELUS International Europe. Construction works for AFI Park 4 and 5 started in April 2014 and the office space with a combined GLA of 32,000 sqm will be delivered in October 2015.
In June 2014, AFI obtained a 220 million euro financing agreement with a banking consortium consisting of Deutsche Pfanbriefbank, Erste Group Bank and Raiffeisen Bank for refinancing AFI Palace Cotroceni, project valued in September 2013 at 375 million euro.
AFI Europe is part of AFI Group, a leading real estate development and investment company with operations in several Central and Eastern European countries, such as Bulgaria, the Czech Republic, Germany, Hungary, Poland, Latvia, Serbia and Romania, focusing on the development of large-scale commercial and residential projects. The domestic portfolio includes AFI Park, AFI Palace Cotroceni and the newer shopping center, AFI Palace Ploiesti.
The company's next major targets concern the development of AFI Business Park Bucharest, a business park consisting of two A-class office buildings and an office tower, to be located near the Romanian Parliament; additionally, AFI plans to expand its retail portfolio with two more shopping center AFI Palace Bucurestii Noi and AFI Palace Arad.