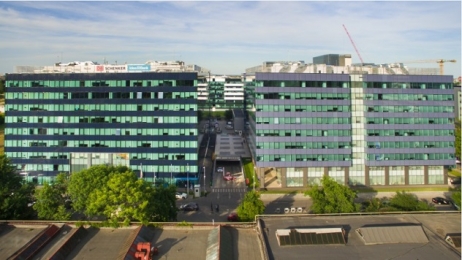 The Belgian real estate developer Atenor has bought a new site of approximately 11,600 sq.m located in the North-Western part of Bucharest, in the Expozitiei/Piata Presei Libere area, that will allow the company to develop a new office project of approximately 44,000 m².
Albotă Law Firm has assisted the company with the legal matters related to the acquisition of the new site, that will allow Atenor to develop a new office project of approximately 44,000 m².
The site located in this northern office sub-market of Bucharest has, with an overall vacancy rate of 5.2% and a vacancy rate of Class A offices of 2.3%, the lowest vacancy rate in Bucharest.
"Accessibility to the site is excellent, both by public transport (large variety of busses and trams connect well and fast this area with the rest of the city), and by road (direct connection of less than 15 minutes with the city center of Bucharest and the International Henri Coanda Airport). Moreover, the newest approved metro line (with an estimated completion in 2021) planning to connect the main railway station of Bucharest with the International Henri Coanda Airport foresees a station just across the site", according to Atenor representatives.
This acquisition aims to increase Atenor business in Europe's most dynamic metropolitan markets. The current external context is favorable for a growth model based on exportoriented services and international corporations which are actively exploring ways to minimize operational costs, while the digitalization of processes allows them to explore alternatives in emerging markets.
"Countries in the CEE region are particularly well positioned in terms of competitive labor costs, flexible legislation, a similar work culture to the Eurozone and North America and a proven track record. Romania has currently more than 100,000 employees in the BPO/SSC sector and remains one of the most attractive countries in the region for attracting new investments. Moreover, based on latest transactions, the office market indicates a renewed impetus for investments in BPO/SSC and IT companies. The Bucharest office market recorded leasing transactions of approx. 170,000 m² during the first semester of the year, indicating that demand remains very strong. Net take-up during the same period last year stood at approximately 86,000 m²", says Atenor's press release.
This will be the company's third project in Bucharest after Hermes Business Campus (Boulevard D. Pompeiu) and Dacia One (Intersection of Calea Victoria and Boulevard Dacia, CBD).
Besides Atenor, Impact, Globe Trade Center (GTC) and Portland Trust have bought recently sites for new housing and office developments in the Expozitiei area.