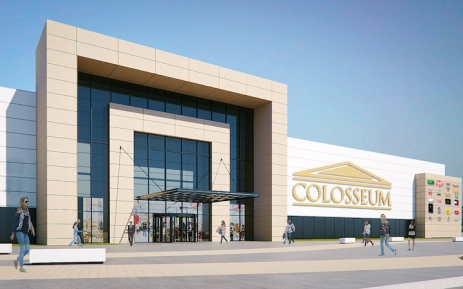 Source: Colosseum Centre
Colosseum Centre, one of the most important shopping destinations in Northwest Bucharest, is advancing the construction works to open a modern shopping mall in 2020. Starting with the opening, Colosseum Centre will reach approximately 54,500 sqm of gross leasable area, becoming the 2ndlargest shopping & leisure destination in the 1st District of Bucharest. The new mall will accommodate Happy Cinema multiplex with 7 premium halls with high technology, World Class fitness centre, multi-brand food court, fashion and accessories stores like CCC, New Yorker, Colin's, Noriel, DM Drogerie Markt, Gregory's, Diverta and many more. This first stage of expansion also includes 1 500 sq.m. offices located on 2ndfloor above the fitness centre and the food-court. Opened since 2011, Colosseum has currently 100% occupancy rate and is accommodating top retailers such as Carrefour, the largest Leroy Merlin DYI store in Romania, Altex, Jysk, Pepco, LC Waikiki and Sport Vision. Considering its strategic location and the continuous development of households in this area of Bucharest, the expansion of Colosseum was long expected by the community. The 60 Ha land property located in the 1stDistrict of Bucharest will allow Colosseum to continue the development on short-medium term with mix-use projects.
Mihai Dinu, General Manager Colosseum: "The construction grows rapidly, and we are confident regarding the mall's opening date planned for the second half of next year. We are working with professional partners and we are pleased about the current leasing status and the timing of the construction works".
Easy access is secured due to the proximity of the Bucharest's airports, ring road and national roads connecting the city to Ploiesti, Targioviste and Pitesti. The large multiple lanes boulevards such as Bucurestii Noi and Chitilei Road are linking Colosseum with the city's downtown, while the public transportation is well represented through the subway station Laminorului and the multi-modal station Straulesti, the STB lines 112 and 422, the tram 45, ,as well as two Carrefour minibuses which are connecting Colosseum with Chibrit Square and Chitila Town.
https://www.thecolosseum.ro/proiect-colosseum-mall-2/