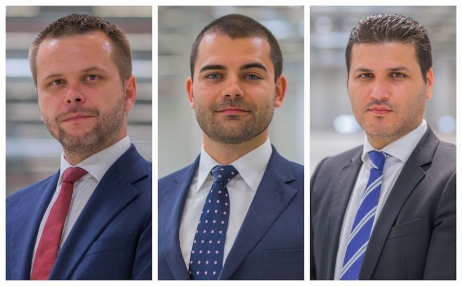 Source: Marian Orzu, Daniel Cautis and Laurentiu Badea, Managing Partners of Dunwell
Dunwell, the biggest Industrial Real-Estate agency in Romania, exceeded 35% of the total logistics and industrial transactions in the first half of 2019, with more than 45,000 sqm transacted, strengthening its position in the top brokerage agencies in our country.
The Dunwell team has transacted both warehousing and future production units, representing extensions, relocations or new projects. For the first half of 2019, the average surface transacted by Dunwell was about 5,000 sqm.
"The Industrial market is going through a very good period of time, being marked by a high interest from investors, encouraged by the positive results during the first six months of the year, when we have exceeded, once again, our expectations, and reached more than one-third of the market share transacted by the agencies in the Industrial sector. We expect this trend to continue in the second half of 2019 so that by the end of the year we will have reached and exceeded 100,000 sqm industrial space transacted", said Marian Orzu, managing partner Dunwell.
According to Dunwell data, in H1 2019, about 280,000 sqm were transacted in the Industrial Market , out of which more than 125,000 through the agencies, the rest within direct deals made by the developers with tenants. Approximately 50% of the total surface transacted in H1 2019 took place in locations near Bucharest, 70% of the deals being done by the agencies. Other highly transacted cities are Timisoara and Ploiesti.
Analysing agencies data, over 80% of the total surfaces transacted was warehousing, the rest being production, with Dunwell securing nearly 90% of the transactions for future production units.
For 2019, Dunwell estimates the transacted volume to be similar to 2018 and to reach 500,000 sqm, either through the agencies, directly with the developers or both ways.
When it comes to new industrial space deliveries, the total of modern projects has exceeded the 4 mln. Sqm threshold in H1 2019, while the potential for new developments announced for this year is situated around 750,000 sqm in the whole country.
New projects in the Industrial sector
Industrial developers started to look up for new attractive investment locations, after observing that regional cities and new infrastructure projects created important potential growth. This is one of the reasons why new land plots have been secured and the new acquisitions will more likely serve as future industrial projects.
"There is a high interest in the Eastern-part of Romania and new, less popular locations, in Bucharest, such as the North-Eastern part of the city, near A3 highway entrance (Bucharest – Ploiesti). We also see a high demand for Inner City Logistics projects, known for their << last-mile delivery >> services, where products can reach their destination much faster, areas such as Preciziei, Pipera, Theodor Pallady or Berceni being the perfect location for such investments. The high interest and demand in these areas came with the investments in infrastructure, which determined investors to secure land plots for future developments and create huge opportunities in the market. Moreover, secondary cities, like Roman, Bacau, Iasi, Craiova or Constanta, are at the forefront when it comes to new investments", Daniel Cautis, managing partner Dunwell stated.
We can observe a trend in the market, represented by the closing of shoes and clothing manufactories from Western Romania, where the workforce has become expensive after the rise of the minimum wage, which led to investors re-thinking their strategy and options. This is the reason why investors opted to open new production units in the Eastern part of Romania, in areas with high potential, or to relocate their activity in other countries altogether.
"Investors have been looking closely to Romania and the development opportunities here, but more tend to invest in projects in the East of the country and in less busy areas, which could translate into developing a new market and setting the ground for future opportunities. An example is the automotive companies, which currently, instead of opting for the developed cities from West Romania, are looking to secure new locations in Iasi, Roman or Bacau for their future production units", Daniel Cautis added.
Developers and investors have started to secure land for 2020 projects
Land plots with great potential for Industrial developments are in high demand among investors and real estate developers, who seek to extend their activity in Romania or for future developments in new areas in the country. The Dunwell Land team is currently being involved in advanced discussions with developers who want to secure land in areas with the highest potential in our country.
"We have signed pre-agreements with investors for land in areas with huge potential. More and more developers have secured land in northern Bucharest, next to A3 (Bucharest – Ploiesti) highway, where prices start to grow in line with the higher demand, in a range between 30 EUR/sqm to 60 EUR/sqm, but also in the Eastern side of Bucharest, where, starting with 2020, we expect to have another 200,000 sqm of industrial projects and where prices are even more attractive, ranging between 25 and 35 EUR/sqm. The West side of Bucharest continues to present the highest interest, being the most developed industrial area in Romania, where new projects are about to start and where prices are going to be even more attractive, because of the high competition. Unfortunately, the lack of infrastructure investments in South Bucharest, near the ring road, is an obstacle to the development of future industrial projects. Talking about other cities, it is worth mentioning that Cluj, Constanta, Bacau, Craiova, and Brasov have the most attractive land plots, which can accommodate future industrial developments in the years to come", said Laurentiu Badea, managing partner and Head of Land Development at Dunwell.