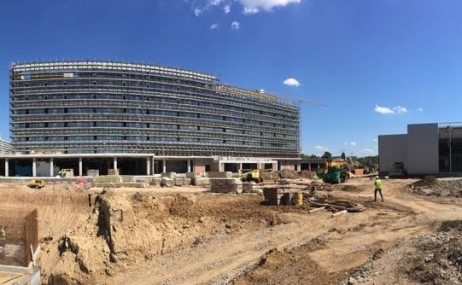 Source: Renault Bucharest Connected
Globalworth, the most important investor in Central and Eastern Europe, has received a 46 million euro loan from the Romanian Commercial Bank (BCR), which will be invested in developing the Renault Bucharest Connected office project.
"Renault Bucharest Connected is one of the most important projects we are currently developing, marking our first investment in the western area of ​​Bucharest and, in particular, the continuation of a long-term partnership with Groupe Renault Romania. And the support provided by an investor such as BCR in its development is an extremely important recognition of the quality of the buildings in our portfolio and supports our mission to strengthen our position in the top of the office market, "said Mihai Zaharia, Globalworth Investment and Capital Markets.
"Globalworth's funding is part of our strategy of engaging in very well-designed real estate projects that are sustainably developed from the plan level to the implementation phase, such as Renault Bucharest Connected. We are ready to offer support to strategic projects that can help boost the local economy, with a positive impact on new developed areas. I would like to thank the partners for our involvement in a new financing, " said Cătălin Jalobă, Head of BCR Real Estate Financing.
Renault Bucharest Connected, the future headquarters of Groupe Renault Romania, is under construction and will be completed in the first part of next year. The project will have an area of ​​47,000 square meters of Class A office space and will include a showroom for Groupe Renault Romania vehicles, 1,000 parking spaces, an amphitheater with a capacity of 350 seats for internal and external events, but also other facilities such as a restaurant and a medical cabinet.
Globalworth was assisted in finalizing the lending by NNDKP law firm while BCR was assisted by Wolf Theiss.