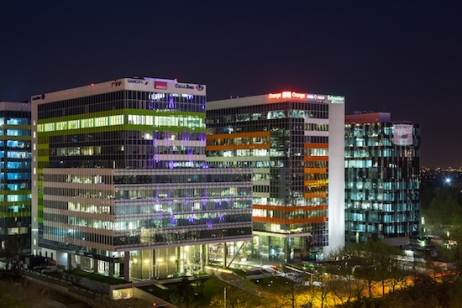 Globalworth Real Estate Investments Ltd. announces the completion of the acquisition of the C building of the Green Court Bucharest office complex, developed by Skanska Romania.
The transaction was made by acquiring 100% of the shares of the Epsilon Property Development Company S.R.L., the company that owned the asset, and has a value of approximately EUR 38 million, an amount paid to Skanska Romania.
Upon completion of the acquisition, Globalworth became the sole owner of Green Court Bucharest, developed by Skanska Romania, part of one of the largest construction and development projects in the world.
The Green Court Bucharest, located in the north of Bucharest, in the Barbu Văcărescu - Floreasca area, consists of three "A" class offices, LEED Gold certified, and offers a total rental area of ​​54,300 sqm.
The C building is a multi-tenant property, rented almost entirely by tenants such as General Motors, Orange, Capgemini, Tradeshift, ABB, Legrand and Merck, and has a total area of ​​16,300 sqm.
Globalworth is a real estate investment company operating in Central and South Eastern Europe, focusing mainly on the Romanian market. The company has a portfolio of real estate investments located in Romania, with an estimated value of 983.3 million euros on 31 March 2017.