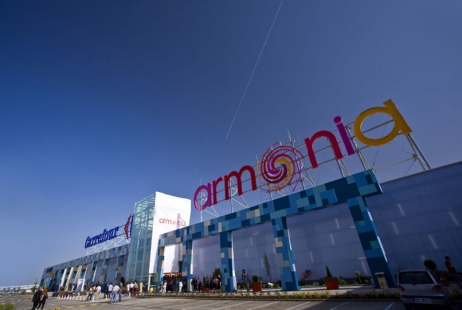 IMMOFINANZ, with activity on the retail and office segments, sold the former Armonia Arad shopping center to Oresa, a company controlled by Swedish investors, with a strong presence on the local market. Oresa intends to develop a mixed-use project with an industrial and a retail component.
"The transaction is an important step for us and is part of the company's strategy to consolidate and expand the successful brands we have in our portfolio, namely myhive, on the office segment, as well as VIVO! and STOP SHOP, on the retail segment ", said Fulga Dinu - Country Manager Operations, IMMOFINANZ Romania.
"This is the second acquisition of the Oresa real estate division in Romania this year. We find it interesting the opportunity to transform this property into a modern industrial and retail park, very well positioned, both for large and small and medium customers, who need modern spaces close to the city, for leisure activities. production, storage or showrooms ", said Cornel Marian, Managing Partner Oresa.
The modernization of the property will start after the completion of the plans and obtaining the permits, in the first half of 2022, and the launch is planned for the first half of 2023.
The entire project has an area of ​​110,000 sqm of land and a gross leasable area of ​​43,000 sqm.
IMMOFINANZ has been investing in Romania for over 17 years. As of September 30, 2021, the real estate portfolio in Romania had an accounting value of 777.7 million euros, the equivalent of 15.4% of the company's total portfolio. The 13 investments have a leasable area of ​​approximately 334,000 sq m, with an occupancy rate of 94%. The largest properties include two office buildings in Bucharest, myhive S-Park and myhive Metroffice, as well as two VIVO shopping malls! Cluj and VIVO! Constanta.
Oresa has been present in Central and Eastern Europe through private investment since 1997. The owners and investors are a family of Swedish entrepreneurs. Currently, the main market is Romania, where the company holds majority or significant stakes in a large portfolio of companies. The main current investments of Oresa in Romania are: La Fântâna, the leader in the segment of water supply services in watercooler and purifier system and coffee for companies, in Romania and Serbia; Romanian Business Consult (RBC), the main provider and integrator of IT solutions for the food and retail industry in Romania and Viatrend, leader in the ready-to-eat food segment. The Oresa real estate division also includes the Solo Park project, the largest private industrial park in Iași.