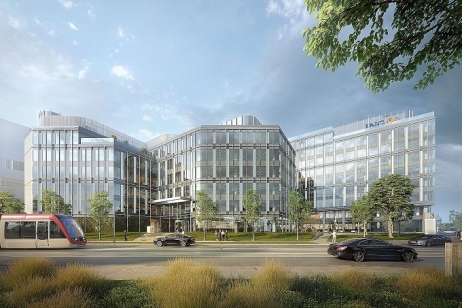 ING Bank, one of the biggest providers of financial services in Romania, will consolidate its headquarters and business operations in a 20,000 m2 office building in Blue Rose Office Park, Portland Trust's newest project in this rapidly developing sub-market in North Bucharest, according to CBRE, the agent that represented the bank in the transaction.
ING will occupy the whole of Building 3, which represents approximately 50% of the total leasable area of the business park. The remaining leasable area will be developed in two other buildings, which will comprise 8,000 m2 and, respectively, 14,000 m2. The Park will be delivered in one phase, with the 3 buildings placed around a courtyard with restaurants.
The construction works will take 21 months and the completion is scheduled for spring 2019.
The project will be developed on Expozitiei Blvd, which is a short walk to "1 Mai" metro station. There is a tram line outside the development and there is a very good road connectivity to the city center as well as to the "Henri Coanda" International Airport.
ING Bank is about to move its headquarter and nearly 2,000 employees in Portland Trust's Blue Rose office project.
"The ING team has had a constant growth in the number of staff and also, during these past years, has changed its internal organizational architecture, following the agile methodology of working. This means we require a higher flexibility of teams, a more dynamic environment that gives room to creative and efficient workplace. The project also checked one of our most important criteria, of being one of the greenest buildings in Bucharest", stated Maria Cristina Matei, COO ING Romania.
"Building 3 comprises ground floor, with retail banking unit, plus 8 upper floors, being regular and efficient and also including terraces on 8th and 9th levels. This project seems to be a catalyst for the area as various other complimentary office and residential projects are also being planned." Robert Neale, Managing Director of Portland Trust stated.
"ING Bank's new headquarters in Blue Rose confirms Expozitiei area as the next business hub of Bucharest", said Razvan Iorgu, Managing Director, CBRE Romania, mentioning that the decision process took two years, with involvement of experts from the Netherlands and Romania.
Portland Trust obtained the building permit for Blue Rose Office Park and excavation works have started. For this project, Portland appointed Bog'Art, one of the biggest construction companies in Romania, which has previously worked with Portland on Floreasca Park in 2015.
Blue Rose Office Park is the first project to be delivered in the Expozitiei area after more than seven years from the opening of Unicredit Bank HQ and it represents a first step to reshape this area into a new sub-market.