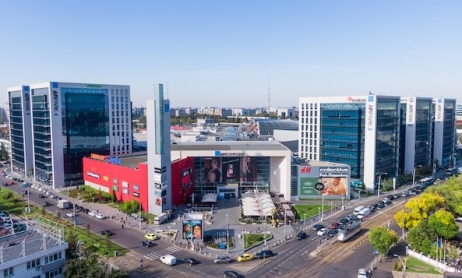 Romanian shopping mall AFI Cotroceni announces the opening of a new store by Irish fashion retailer Primark. AFI Cotroceni will perform upgrades and relocations to accommodate Primark's special requirements for large spaces and suitable facilities.
"As we are aware to our visitor's and partner's expectations from AFI Cotroceni we are all fully dedicated to provide the best shopping and leisure experience in the mall. Primark is a perfect addition to our mix of retail, entertainment and food attractions. This new entry sends a strong sign of trust in the local market potential and in AFI Cotroceni to keep its leading position", stated Sorin Scîntei, General Manager AFI Cotroceni.
AFI COTROCENI was the first shopping center developed by AFI Europe in Romania, inaugurated in 2009 and located adjacent to AFI Park 1-5 office buildings. It is the biggest shopping center in the country, that spreads on an area of approximately 90,000 sqm GLA and offers 300 spaces for shopping and entertainment activities like cinema, indoor skating area, restaurants, combined in a perfect mix.
Primark was assisted in the analysis and real estate decision-making process by CBRE Romania's team of retail experts.
"We are proud of our contribution to Primark's entry into the Romanian market, an outcome that is perceived as a very strong and positive market indicator by international retailers. The excellent collaboration with AFI Europe has been instrumental in placing the world-renowned brand in one of the best shopping centres in Bucharest." explained Carmen Ravon, Head of Retail Occupier CBRE for CEE region.
Romania is one of the most attractive markets in CEE region for retailers, and the country's positive outlook regarding consumption throughout 2021 and 2022 is encouraging.
Retailers' appetite for expansion is growing in the entire CEE region, as the footfall in the shopping centers is recovering and steadily increasing, still being below the pre-pandemic levels, but with a conversion rate higher than in 2019, as shoppers are more determined and spend more generous budgets than before. The prime shopping centers and high streets have enjoyed the quickest recovery.
Retailers across the entire region are interested to continue their expansion, both in the countries where they already are present but also in new markets of the region, with the most active categories being fashion, specialty retail and F&B. Unlike the previous years, the expansion strategies are based mainly on analytics, and most of the retailers use specialized software in the decision-making process. Although this process can take longer, the decisions are well-researched and better calculated, thus implying a smaller risk for retailers.
The average length of the lease is shortening, while the retailers target locations with a proven track record of attractivity for the shoppers. The number of pop-up stores, is increasing, offering the retailers the possibility to test the market and at the same time offering the visitors a more enjoyable experience.