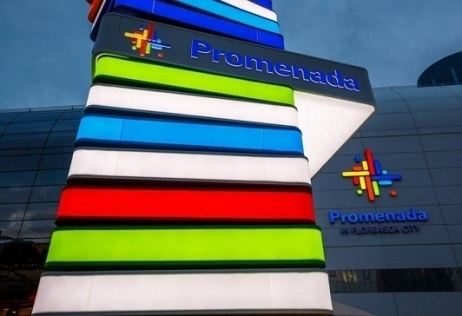 Source: Promenada
NEPI's development pipeline, including redevelopments and extensions to secured acquisitions, has increased to 547 million euro (estimated at cost), up 42 percent compared to the previous year, 176 million euro having been spent by 2014 year-end, the South African investment fund announced in a report sent to the Bucharest Stock Exchange.
The group has consolidated its real estate portfolio throughout last year, delivering several new developments, extensions or acquisitions, such as Vaslui Value Centre, Aurora Shopping Mall (Buzau), Alba Iulia Value Centre, Vulcan Value Centre (Bucharest), Shopping City Targu Jiu, Promenada Mall (Bucharest), and The Office (Cluj-Napoca).
For 2015, NEPI plans six openings: Mega Mall (the group owns a 70 percent interest in the development on the former Electroaparataj industrial site in Bucharest), to be inaugurated in the second quarter of 2015, the first phase of the extension of City Park Constanta, expected to open before June 2015, Deva Shopping Centre extension and Severin Shopping Centre extension - both openings are scheduled in September 2015, the second phase of The Office in Cluj-Napoca, to be delivered by November 2015, and Victoriei Office which should be available for tenant fit out by December 2015.
Other projects in progress are Shopping City Piatra Neamt, whose completion is expected in 2016, and Shopping City Timisoara, an 80,000 sqm GLA retail project consisting of two development phases, the first one already launched, yet, the opening date has not been decided to date.
Promenada Mall to be extended with 25,000 sqm GLA
Besides these developments, NEPI aims to extend the Promenada Mall, its most recent acquisition in Romania, a transaction of nearly 150 million euro.
"The Group intends to extend it with approximately 25,000m2 GLA, including fashion, entertainment and leisure, and has acquired an adjoining 1.2 ha currently zoned for the development of 50,000 sqm of above ground offices," states the report in question.
As a result, the investment fund plans to apply for rezoning of that land in view of developing a mixed-use extension with integrated Class A offices.
Located in Northern Bucharest, Promenada Mall covers a gross leasable area of 40,300 sqm, hosting more than 120 stores and 1,300 parking spaces.
NEPI's real estate assets, valued at approximately 1.3 billion euro
NEPI acquired and developed four malls and three value centres in 2014, most of these in Romania, along with The Office project, the single development in the office segment.
The group's domestic portfolio currently comprises of 18 malls and value centres, A-Class office buildings in Bucharest, Cluj-Napoca, and Timisoara, and other retail and office properties under development, bringing the total value of the real estate assets at nearly 1.3 billion euro, 57 percent more compared to last year.
Contractual rental income and expense recoveries have also increased to 87 million euro year from 55.3 million euro in 2013, while the profit after tax grew by 66 percent to circa 94.3 million euro.