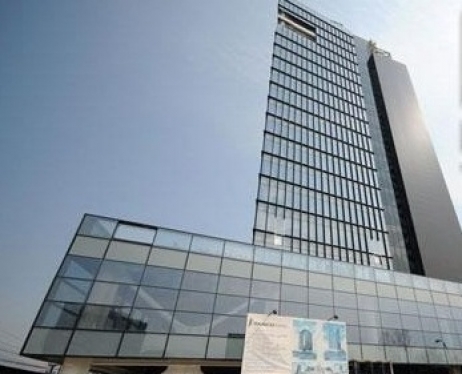 Source: www.nuscotower.ro
The acquisition campaign run by the investment fund established and controlled by Greek businessman Ioannis Papalekas continues with a new property added to the domestic portfolio: Nusco Tower, office building for which Globalworth will pay 46 million euro, reads a company release.
Closing of the acquisition is scheduled for the second quarter in 2015, the transaction also including an adjoining land valued at 4 million euro.
"Following the recently announced acquisition of Green Court Building A, these transactions consolidate Globalworth's leading position in Bucharest's new CBD. Nusco Tower is a well-known, high quality office building with a blue-chip tenant roster, whereas Nusco Land is one of the very few remaining available land plots in the heart of the new CDB which continues to witness strong tenant demand mainly from multinational companies", comments Dimitris Raptis, Deputy Chief Executive Officer and Chief Investment Officer of Globalworth Real Estate Investments.
A development of Italian group Nusco, the property is located in Bucharest's new central business district ("CBD") on Gara Herastrau, very close to the recently acquired Green Court Building A. Nusco Tower has a gross leasable area (GLS) of approximately 23,000 sqm dispersed over 20 floors. With an occupancy rate of about 91 percent amongst its major tenants are Volksbank, Oracle or Bayer.
The land of 2,434 sqm subject of the 50 million euro deal is located on Gara Herastrau, some 200 m away from Nusco Tower and adjacent to Green Court Building A, having all the necessary permits to develop a circa 12,000 sqm GLA office building.
Romanian law firm Nestor Nestor Diculescu Kingston Petersen (NNDKP) acted as Globalworth's legal advisor on these acquisitions.
Nusco Tower adds to the other nine real estate projects in Bucharest Globalworth holds. Its property assets additionally include an industrial park in Timisoara acquired in August 2014. According to the company's information, its real estate asset portfolio as of September 204 has an open market value of about 542 million euro.