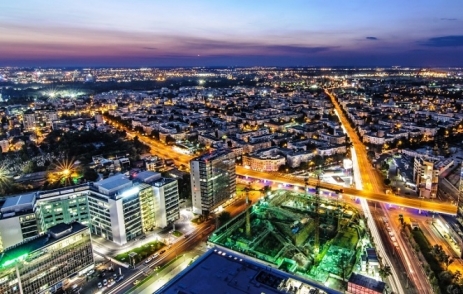 The office space market in Bucharest is very active this year, both in terms of new project deliveries and transaction volumes, but also in terms of rebalancing the city from the perspective of interest areas for development. Govnet.ro analyzed, with the help of real estate consultants, the main trends of this market, from the new development poles for the big office assemblies to the the new wave of downtown boutiques-office buildings and the tenants' profile.
Last year, approximately 294,000 square meters of office space were delivered - a new record for development was established. In 2009, the year of absolute record-breaking deliveries, 383,000 square meters were completed. The total number of office space delivered in 2017 will reach the 140,000 sqm threshold, as many developers will align with the tenants relocation date.
According to Colliers International Romania, the average vacancy rate aggregated across the Capital would be somewhere around 12%, but there are quite large differences from area to area. In the Floreasca-Barbu Văcarescu buildings, for example, we are probably talking about a vacancy rate of less than half the average for the entire city.
In terms of rents, they have remained broadly stable this year, in the context of a relative balance between supply and demand. Rents vary between 16-18 euro / sqm in the center area and even below 10 euro / sqm in Pipera or other adjacent areas, according to Colliers calculations.
50% occupancy at delivery time
Out of the total office spaces completed in the first 9 months, representing 109,000 sqm, about 78% has already been leased. By the end of 2018, more than 330,000 square meters will be completed, according to CBRE data. In terms of occupancy or pre-lease level, at the time of finalizing a project, it amounts to at least 50%, and this trend has been maintained in recent years.
On the list of major projects under development are Timpuri Noi Square, Business Garden, The Bridge, Oregon Park (extension), Orhideea Towers, Equilibrium, The Mark, Globalworth Campus and AFI Tech Park, with 40% and 60% of the office spaces being negotiated for rental at the moment, according to Colliers International Romania.
The North of the Capital is approaching the maximum development
It seems that the North of the City is beginning to approach the maximum development in the office market. Large projects of tens of thousands of square meters have been built around the Promenade Mall, with state-of-the-art office buildings with green building certifications, amounting to hundreds of thousands of square meters. These include Green Court, Globalworth Tower, Sky Tower.
There are new ones too, like Equilibrium, but the pace of development is now lower than in previous years. Thus, Floreasca - Barbu Vacarescu area, part of the office development projects in the North area, which has a modern stock of 770,000 sqm, Dimitrie Pompeiu, part of the Pipera area, with a modern office space of 691,000 sqm and CBD (Central Business District) with a modern 431,000 sq m stock have reached a high level of development from a profitable investment perspective, says Mihai Paduroiu, Head of Advisory & Transaction, Office, CBRE Romania.
This led to developers' decision to identify new business poles in very good locations. Serious investors such as Skanska, Portland Trust, CA Immo, Vastint, or Forte Partners have focused on new areas of interest.
3 + 1 new areas of interest
The North-Central, West-Central (Orhideea-Politehnică) or Center (Unirii – Timpuri Noi) areas represent new poles for office space developments, while the Expoziției area has re-opened to investors who are targeting real estate projects, according to Mihai Păduroiu.
The Grozavesti-Semănătoarea-Politehnica zone is in full swing. There are large projects, tens of thousands of square meters each, of Class A office spaces such as Bridge Tower, Business Garden, Campus 6.
Alexandru Petrescu, Managing Partner of Esop Consulting, estimates that over the next 3-5 years a new office area will outline in the Romexpo-Expozitiei Boulevard area, where several projects prepare to sum up tens of thousands of sqm of new office spaces. Among the developers who have big plans in this area at the moment are Atenor, Portland Trust, GTC.
"The Unirii area also has potential for development of the office market, and lately, major office projects such as Unirii View and Day Tower, which have a high occupancy rate before they are completed, have begun construction. And the Timpuri Noi Square office building, delivered this year on the banks of the Dâmboviţa River, a little further east of Unirii Square, will have its role of shaping greater interest for this part of Bucharest," says Alexandru Petrescu.
The representative of Esop also mentioned another advantage of the area in terms of new food and shopping facilities for young employees, which will also bring added value alongside the site with the best connections to the capital's transport means, as is known Unirii Square.
"The office buildings in the center of Bucharest are in the sight of investors and investments are being made either for their renovation or for consolidation and bringing to a high quality standard. Also concerned are the free construction plots on which office buildings are developing from scratch. The central area of ​​the capital is attractive for both the office and residential market, HoReCa, the medical and education industry (kindergartens and private schools)," added Alexandru Petrescu.
Silviu Pop of Colliers also agrees that "the buildings in the center will always be attractive by location. However, the need to invest - such as improving the office space - will become more pressing in the years to come, with the emergence of new projects on the market such as The Mark in 2018."
Another area that could be revitalized is Eroilor, in the context of the resumption of the Dâmboviţa Center multifunctional project, which has returned to attention, Alexandru Petrescu reminds.
A new development axis for boutique office buildings
Apart from the new business areas that are set up in Bucharest on the segment of the big office assemblies and which are generally located to the outskirts, there are some areas with potential for development in the segment of boutique office buildings.
"On the axis of Unirii - Universitate – Romană Square - Dorobanti - Charles de Gaulle - Victoriei Square there is potential for development of boutique office buildings that are suitable for representative offices for Romanian companies as well as for multinational companies that do not need large office spaces, but want a good image and a high quality standard. Such buildings have begun to be delivered to the market and generally have surfaces ranging from 1,500 to 6,000 sqm," explains Alexandru Petrescu explains.
With luxurious finishes and elegant facades, these projects are class A and stand out in the premium areas where they are located. An example of this is the Bookcase building (2.137 sqm), located in Dorobanti, recently launched on the market.
Who are the tenants and what they want
If we look at the client profile for which new large office buildings are being developed, we will see that the most active area is represented by IT&C companies.
"190,000 sqm was the new office space demand, which includes both new entrants and expansions of existing companies with new spaces or divisions over the past 21 months. The total amount can be translated by creating 19,000 jobs, with a ratio of 1 person to 10 sqmof office space. Most of the requirements came from IT&C and outsourcing companies," said Mihai Păduroiu, CBRE.
These companies are looking for a wide range of facilities, from Metro station to fitness centers near the area where the building is located.
According to the CBRE representative, only in the first nine months of the year, companies in this sector have leased over 135,000 sqm. They are looking for efficient buildings, positioned in an attractive area for employees, in projects that offer a retail mix that can meet a number of needs, the latest technological specifications, an unconventional work area, the ability to work outdoors and offer Wi-Fi facilities in common areas.
"If we look at the relationship between labor productivity and wage costs, Romania remains attractive, and IT&C and BPO / SSC have been the engines of the office market in recent years (and not just in Bucharest). Fundamentally, the requirements of companies have not changed: the quality of the buildings (including green certifications) and access to public transport remain important criteria. However, it should be emphasized that companies now know the market better and know what to ask as tenants; at the same time, there is a growing focus on developing a community and facilities (not necessarily in the building, but at least cafes, restaurants, banks, pharmacies and so on near the building)," explains Silviu Pop, Head of Research, Colliers International Romania.
Among the specific requirements of large tenants there are an area of over 1,500 sqm per floor, enough parking spaces (better than 1 place for 75 sqm of rental) with facilities for employees in the area, such as shops and fitness centers etc.), according to Alexandru Petrescu from Esop.
On the other hand, for smaller buildings the main tenants are from the consulting industry or representations of multinational or Romanian companies that need a central or ultra-central location with class A or B endowments and finishes, with flexible spaces on each floor, easy to partition, with natural light, Metroaccess and city facilities (restaurants, hotels, medical centers, etc.).
Efficiency, the basic rule among developers
Although we are increasingly hearing about new spectacular technologies in the development of office buildings, such as facial recognition and fingerprinting introduced in Timisoara, it is not necessarily this strategy that most developers are relying on.
"Situations involving such technologies are low in number. In general, we notice that developers are more focused on utility by using technology innovations to increase the efficiency of the building, and implicitly provide cost-less rentals to tenants, or, better said, owners seek optimization of the relationship between the quality of the services they offer suppliers and their costs," said Silviu Pop, Colliers.
On the other hand, developers are looking at details that provide a modern image of the project:
"Every developer with a modern vision wants the office project he is building to bring about a change, and the resulting investment will generate a number of differentiating elements. Whether it's a virtual reception, a treadmill, facial recognition, or unconventional Wi-Fi work areas, all of these features contribute to highlighting some of the modern requirements that more and more employees want," Mihai Păduroiu, CBRE, concluded.