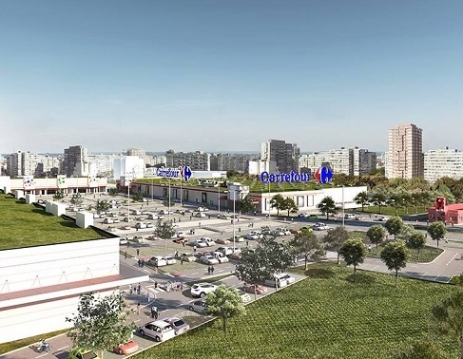 Source: Vulcan Value Center
The newest shopping mall in Bucharest, Vulcan Value Center, was open to the public on September 4 after the inauguration ceremony was held a day before. The 25,000 sqm project was developed by the South African fund NEPI, one of the most dynamic real estate investor in Romania.
Requiring investment of some 47 million euro, the shopping center which is anchored by Carrefour hypermarket, has an occupancy rate of 95 percent, encompassing over 50 tenants among which: H&M, C&A, Deichment, Domo, Hervis Sports, Takko or LEMS.
Vulcan Value Center is located in Bucharest's District 5 and targets middle-income people who will have access to a wide range of products in a single place, according to the developer.
NEPI's new project is seen as a novel retail concept projected to meet all the needs of the people living in South West Bucharest, the investor aiming to establish a new shopping-model tailored on Romanian consumers and which will be successfully adopted by residents.
The investment fund has a portfolio including a wide range of properties, both in the retail and the office real estate sectors. As regards retail properties, NEPI is currently developing Mega Mall (Bucharest) and Shopping City Targu Jiu, while Deva Shopping City is in the next year's pipeline.
NEPI has run a consistent development strategy over the past years so that the development or extension projects carried out within 2011 and 2013 lead to an increase of their total value to 386 million euro (estimated at cost, of which 91 million euro had been incurred by December 31, 2013), an advance of 179 million euro compared with the results related to the previous year.