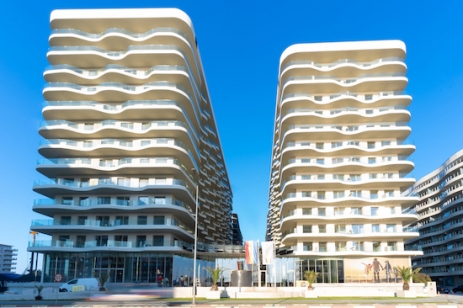 Nordis Group announces sales of 123.7 million RON in the first 6 months of 2022. This amount represents the value of pre-contracts for the sale of apartments in the 4 projects that Nordis Group has under development at this moment. The signing of the sale-purchase contracts from Nordis Mamaia, which started on July 15 and runs until the end of the year, will considerably increase the total annual revenues.
In the real estate market, the year 2022 followed the upward trend of last year, with the relaxation of the pandemic situation, but especially with the increase of the VAT threshold of 5% to the amount of approximately 140,000 Euros. This, coupled with the rising trend of inflation, has been an incentive for investors who want a better annual return on their savings. The war in Ukraine caused a period of analysis on acquisitions, but this moment was paradoxically exceeded, precisely because inflation rose from 8.4% in January to 15% in June. In this context, people wanted to protect their savings and make safe investments. Thus, Nordis Group signed sales promises, in the first 6 months of the year, for 255 units of its projects: Nordis Mamaia, Nordis Sinaia, Nordis Brasov and Nordis View in Bucharest.
"We started handing over the completed apartments from stage I Nordis Mamaia, which becomes the most important factor of credibility for our public. The fact that we have available only 11% of the volume of units ready for delivery in Nordis Mamaia increases the interest. For the second part of 2022, we expect better results compared to the first part of the year", declares Florin Postoaca, Sales Manager of Nordis Group.
On July 15, Nordis Group started the process of handing over the completed units from Nordis Mamaia. The signing of the sale-purchase contracts will take place in stages, until the end of the year up to 1,000 units will be handed over to the owners. In the first 6 months of the year, 135 units from stage II and 57 units from stage I were sold in Nordis Mamaia. The best-selling units were the residential studio apartments from stage II of development of Nordis Mamaia.
At the end of the year, the inauguration of Nordis Hotel Mamaia is planned, at which point the entire financial concept becomes not only active, but also viable for the business model managed by Nordis Group. The first buyers of the Nordis Mamaia complex, who have booked a unit since 2019, at the launch of the project, currently benefit from an investment appreciation of 125%, influenced by the development of the concept to the standard of a 5-star resort, the maturity stage of the complex, product marketing activity and market evolution.