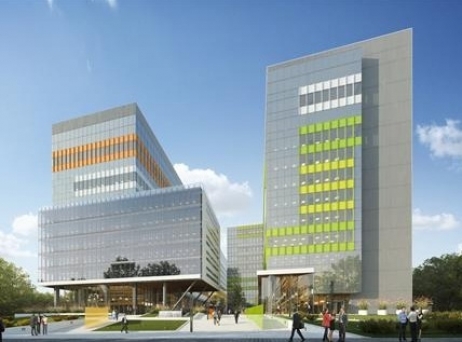 Source: www.skanska.ro
About half of the employees of Orange Romania will move to the new office park developed by Skanska in northern Bucharest, the Floreasca area, where rented 13,700 sqm, announces the Swedish construction group.
Eight of the twelve storeys of the first building of the Green Court Bucharest project will be occupied by the mobile telecom operator upon one of the year's largest transactions of its kind in the real estate market. In the new office building, an investment of 46 million euro carried out by Skanska Commercial Development, Orange will relocate over 1,500 employees once the office space is fully delivered in October, this year.
With this rental arranged, BNP Paribas acting as intermediate agent, the occupancy rate of the 19,500 sqm building reaches 90 percent.
On completion, Green Court Bucharest project will cover a total area of 52,000 disposed on three 12-storey A class buildings. The first phase, namely the office building largely let already, is almost finalized and construction works of the second building are ongoing so as its completion is foreseen in the second half of 2015.
Schneider Electric is the first tenant of Green Court office park, following the lease signed earlier this year for some 3,100 sqm – about 16 percent of the available surface.
Skanska Romania, part of the Skanska Group, world leader in project development and construction, has been operating in Romania since 2011, in late-2012 having made the first domestic land acquisition – the 15,000 sqm plot to accommodate Green Court Bucharest office complex.
Orange Romania employs about 2,900 people and posted last year a net turnover exceeding 4.3 billion lei (some 970 million euro) which generated a net profit of 500 million lei (around 110 million euro), according to the information available on the website of the Ministry of Finance.