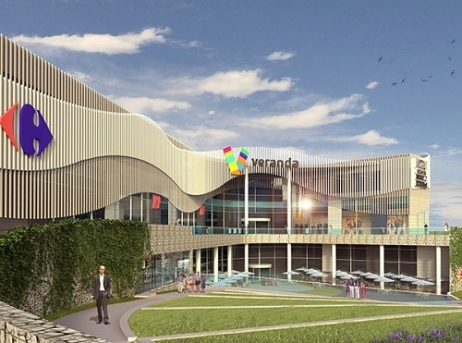 Source: Veranda Mall
Construction works of the Veranda shopping center have started on the former platform of Prodplast factory located in Obor area. Requiring investment of 60 million euro, the project developed by Prodplast Imobiliare will have a gross leasable area of 25,000 divided on two storeys and will be anchored by a Carrefour hypermarket.
Veranda Mall was designed as a green proximity shopping center which will feature over 100 retail units, a food area, playgrounds and sport fields.
"It's a new concept in the Romanian market – we bring easily accessible shops, a welcoming restaurant area and the most generous green area dedicated to a retail project in Romania so far. We want to revitalize the commercial activity in the Obor district, but also to give residents more options for spending their spare time", said Andrei Pogonaru, member of the Board of Prodplast Imobiliare.
In addition to the retail space, Veranda will house a Multiplex Cinema and an extended parking lot. All shopping areas will be accessible from the street, as well as via 6 escalators, 8 travelators and 3 lifts.
The shopping center was designed by English architects Chapman Taylor and its delivery is scheduled for 2016. CBRE Romania is the exclusive leasing agent of the shopping center.