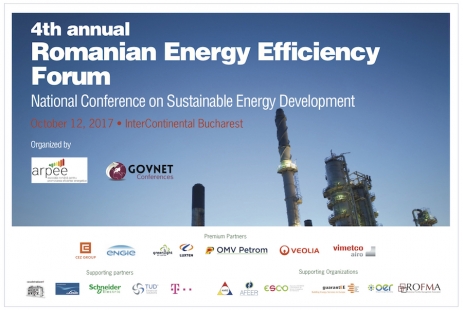 The Energy Efficiency Forum, the most important annual event dedicated to energy efficiency and the development of sustainable energy programs, has reached its fourth edition at an opportune moment in this field, considering the new strategies for the implementation of the EU Directive no. 27/2012.
Organized by the Romanian Association for the Promotion of Energy Efficiency (ARPEE) together with GOVNET Conferences, the event will discuss both the opportunities and the challenges encountered during the implementation of energy efficiency programs bringing together key people among specialists and authorities in this sector - representatives of the Government, regulators and private companies.
Thus, the speakers will provide the latest information dedicated to adapting companies to the requirements of Directive 27/2012 and at the same time will involve the audience in discussions on the future directions that Romania will take on the energy market and the development of all energy services.
In addition to generating relevant information on future internally developed projects by companies, the Romanian Energy Efficiency Forum 2017 also has the role of intermediating business relationships and presenting the investment opportunities of the moment in this sector. The two major topics of the conference will be Romanian legislation and policies on Energy Efficiency under the new 2030 energy and climate framework and Suitable financing mechanisms to spur investment in energy efficiency projects.
Some of the punctual topics to be debated are: ways to implement feasable energy efficiency projects in Romania, the latest innovations in energy efficiency technology, the shortest road from legislation to implementation, going through all phases - from design, financing, regulation, operation, through suppliers and beneficiaries.
Forum speakers include Razvan Grecu, Chairman of the Romanian Association for Promotion of Energy Efficiency (ARPEE), Alessia Endellini, Policy Officer at EFIEES, the European Federation of Intelligent Energy Efficiency Services, Dumitra Mereuta, Energy Adviser, Ministry of Environment, Aurelia Simion, Chief of Service, General Directorate for Regional Development and Infrastructure, MDRAPFE, Gheorghe Dobra, CEO and Member of the Board ALRO, Doina Vornicu, COO & Executive Board member CEZ Romania, Carmen Badici, Engineer, member of "Light Smart System" project team Luxten Lighting Company SA, Oana Mogoi, Coordinator of Energy Team, Project Finance BCR, BCR, Daniela Ionescu, Principal Municipal Infrastructure Specialist, EBRD, Mihai Tudorancea, Managing Partner TUD Financial Solutions.
The conference partners are: ALRO, ANRE, CEZ Group, Ethan Allen, Horizon 2020 – GuarantEE Building Energy Services in Europe, Linde Gaz Romania, Luxten Lighting Company SA, Mitsubishi Electric, OMV Petrom, Schneider Electric, Telekom,TUD Financial Solutions. The conference will take place on 12th of October, at Intercontinental Hotel.
For more details about the event, visit the link: http://govnet.ro/Romanian-Energy-Efficiency-Forum-2017