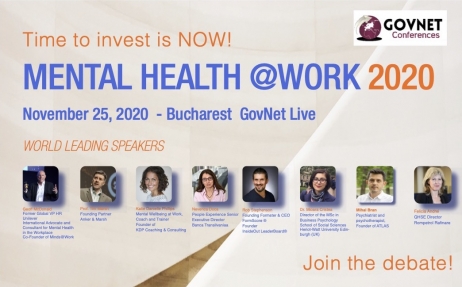 GovNET Conferences invites you to the international conference "Romanian Mental Health @Work 2020" on Wednesday, November 25, bringing together world-renowned specialists with local team leaders to discuss one of the most important topics on employee mental health, which is beginning to feel the effects determined by the current pandemic context.
Mental health and well-being management at work is a relatively new challenge for most companies in Romania, despite the negative impact of mental health problems on staff productivity, workplace relationships and business profitability. In fact, the health and safety policies and plans of many companies still lack the effective management of risks to mental health and well-being. This interactive conference is designed as an opportunity for team managers and staff with occupational safety and health responsibilities to share and learn from experiences in identifying, reporting and managing occupational mental health issues.
Geoff McDonald, former Global VP Unilever and founder of Minds @ Work, says that "the global coronavirus pandemic should be seen as an opportunity to make physical and mental health a priority at work" Geoff is actively campaigning to remove the stigma of depression and anxiety at work, to raise awareness of the need to communicate about them, and to offer some practical strategies on how to address these growing modern conditions.
Prof. Tim Marsh, founding partner of Anker & Marsh, will explain the need for companies to invest NOW energy, expertise and funds in the mental health of employees.
Rob Stephenson, Founder & CEO of FormScore and InsideOut LeaderBoard will reveal how we can take care of the mental health of our employees in difficult times. "The mental health of employees has been subjected to a difficult test in recent months. Improving mental health and resilience is not just about people, it is one of the biggest performance gains we can make right now, at a time when businesses need it most. Whatever you do as a business leader now, you can't afford to ignore the well-being of your team! "
Katie Danielle Phillips, Coach and Mental Health Trainer at Work, and Founder of KDP Coaching & Consulting will touch on an extremely important topic: "Burnout - how to keep our mental health and that of the entire team."
Dr. Mioara Cristea, Master Program in Business Psychology at Heriot Watt University (Edinburgh, UK) will address the link between mental health and leadership: the psychological consequences of imposter's syndrome suffered by senior leaders.
Nevenca Doca, People Experience Senior Executive Director, Banca Transilvania will emphasize how important investments in prevention are, and Felicia Andrei, QHSE Director, ROMPETROL Rafinare will address the topic A "BIS" - Awarness & Adaptability, while guiding us to be good with us and with others, because no one knows what each one is going through.
Mihai Bran, psychiatrist and psychotherapist, founder of ATLAS, will explain the benefits and ROI of digital mental health interventions for employees. "Poor mental health can impact an individual's ability to thrive at work and earn a living. Digital tools that offer psychoeducation, screening for mental illness or various types of interventions are becoming increasingly popular and available to companies, which are beginning to integrate such programs into their routines. "
Join us in the debate!
Register your participation here: https://govnet.ro/MENTAL-HEALTH-AT-WORK-INTERNATIONAL-FORUM-